My mom has a couple antique coffee grinders at her house.The mechanism is simple, coffee goes into the cup at the top of the grinder and when you turn the handle the gears grind the beans into the waiting drawer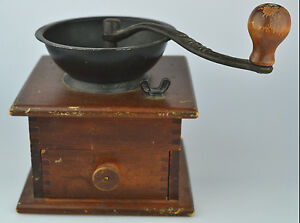 underneath.
Growing up, there was another coffee grinder I often saw. It was a wrestling move my dad taught his wrestling team, as well as my brother, when he wrestled. The purpose of the coffee grinder is to switch the power from the bottom wrestler to the top. The idea is to roll the opponent over into a position to be pinned.
I remember very clearly hearing my dad holler to my brother from the bleachers during a match, "Coffee grinder! Coffee grinder! Hold 'em, hold 'em!" It was one of the moments when the status of the meet could be changed, just by how a wrestler moved his (or her) legs.
I've been thinking of this wrestling move a lot lately. The enemy has been holding some power lately in my life, flattening himself to the mat, making it difficult to move him into a position where his control is defeated. I have felt a bit battle weary, like it's going to be a draw, or in my exhaustion I will make a mistake and he will win the match by pinning me instead. So, I have been looking for a different approach.
Prayer has always been a quick way to find direction, but lately it hasn't been enough. So, I have added uplifting music, Scripture, and other devotional words of encouragement to help me get the leverage I need to change the power from the enemy to me. With the wrestling move, the key is in the way the wrestler moves his legs to get leverage. If we are supposed to keep going forward on our faith journey, Best Beloved, that means we will have to move our legs.
So, here we go, Coffee grinder, coffee grinder, hold 'em, hold 'em!
PIN!